Every holiday has its setting. At Halloween, trick-or-treaters parade through neighborhood streets. At Christmas, we gather around the tree to exchange presents. And at Thanksgiving, we meet at the dining room table to give thanks for all the year has bestowed on us.
For many, setting the table is a Thanksgiving tradition in and of itself. The fine china is dusted off and the silverware is taken out of its hiding place. But, as any good host knows, the most important part of any table setting is the centerpiece.
Need help picking the perfect holiday centerpiece? Here are three tips to keep in mind.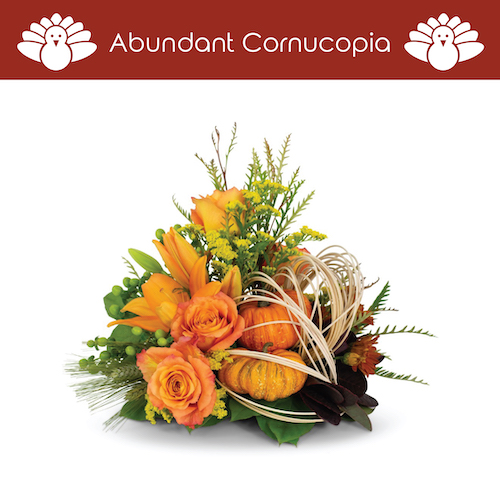 Stay Seasonal
Did you know that the warm colors we associate with autumn (red, yellow, orange) have an affect on our appetite? It's true! Psychologists say these colors actually make us hungrier because they remind us of some of our favorite fruits and veggies. So, it only makes sense to put them on full display during a big meal.
This Thanksgiving, lean into the season with a centerpiece inspired by the beauty of autumn. Consider using fall colors, blooms and even seasonal gourds in your arrangement.
At Abbott Florist, our Abundant Cornucopia arrangement does just that. Built around miniature pumpkins, this centerpiece mixes fall-colored blooms of free spirit roses and asiatic lilies. This arrangement is perfect for those looking to add a sense of festive whimsy to their table setting.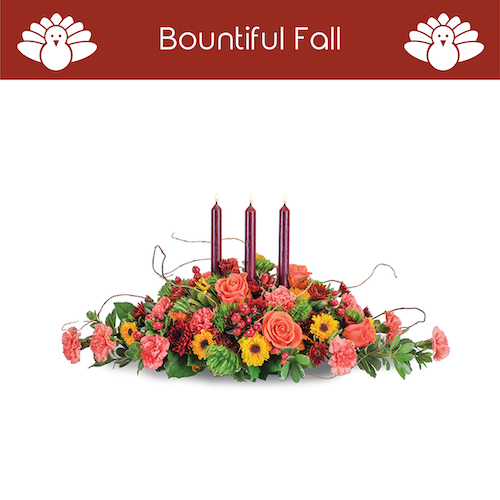 Decorate with Purpose
Adding a centerpiece to your table is a chance to set the mood before the meal even begins. But a centerpiece doesn't have to be just something pretty to look at. A great arrangement can bring together form and function in order to serve a particular purpose.
Some families celebrate the meaning of the holiday by opting for a centerpiece arranged in a basket. One by one, each member of the family writes down something they're thankful for and places it in the 'giving basket' at the center of the arrangement. Try doing something similar with one of our basket arrangements.
Another option is to use a centerpiece that adds to the ambiance. Take Abbott Florist's Bountiful Fall for instance. Three tall candles rise out of this arrangement of roses, carnations and mums. As such, this arrangement doubles as a light source, casting a delicate glow across your Thanksgiving table.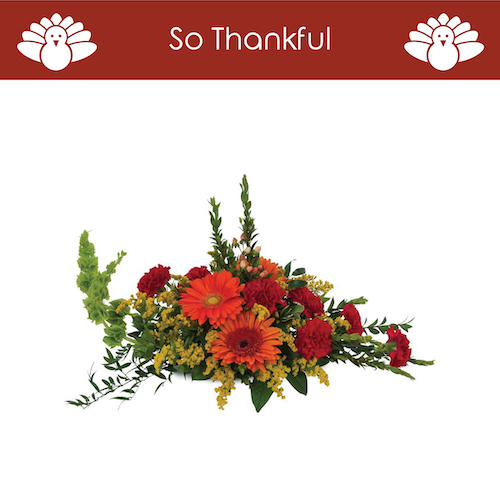 Keep It Short and Sweet
A good centerpiece is a decoration, not a distraction. You don't want the arrangement to be so tall that you cannot see the person sitting across from you. Consider a centerpiece that lays low, but still adds a touch of color to your table setting.
At Abbott Florist, our So Thankful arrangement is a Thanksgiving favorite. Its colors are vibrant without being intrusive. Plus, the rising stocks of green foliage will add dimension to your table without being too tall.
Place this arrangement at the heart of your table to create a warm, inviting atmosphere.
And there you have it, everything you need to know to pick the perfect Thanksgiving centerpiece. Now you're on track to be the holiday host with the most.
Still need a little help picking a centerpiece? Take a peek at Abbott Florist's gorgeous assortment of Thanksgiving-themed bouquets.