Prom season is in full-swing! Senior proms are an unforgettable experience for students finishing their last chapter of high school. Fine clothing, catered meals, photo ops and limousines all make for extra-special memories.
Selecting flowers to complement each couple's perfectly-planned outfits is a first experience for many teens. Below are the 5 most-important pieces to consider when putting the final touches on prom night.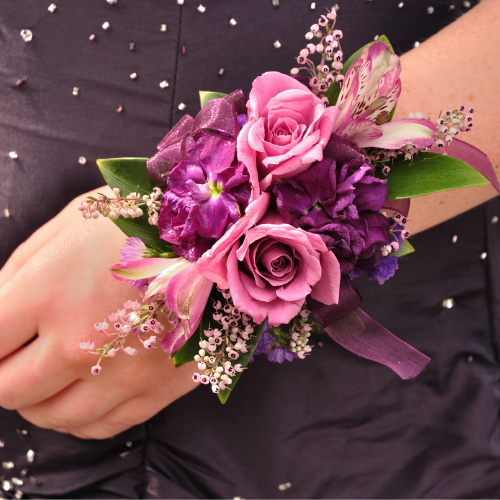 Color Scheme
Color is often the very first thought when planning for prom. What is the theme of the party? What if it's a beach bash, but your dream dress is a luxe black? Whether you choose to coordinate with themes, friends, or challenge the status quo, color is the first statement you'll make at the party of the year.
When selecting flowers, we recommend choosing an arrangement that complements your formalwear. Although a monochrome palette can look ultra-sleek, you may get frustrated on the hunt for the perfect match. A complementary color will also add more depth to your photos and gown.
Much like jewelry, your flowers are an accessory to your look. Remember, you are the most beautiful piece of the night.
The Dress
The dress. You've spent months building a Pinterest board. You've had your eye on it, or it was love at first sight. You're wild about sharing swatches with your date, and seeing it hang in your room is exciting!
There are many options with prom flowers and their embellishments. It's important to take a good look at your dress features along with the jewelry you plan to wear. This way, you can come to your florist knowing you'd love a pure bouquet or a corsage twinkling with gems.
Of course, you can always bring photos to your florist and make a plan together! We have many years of experience in proms and their passing trends.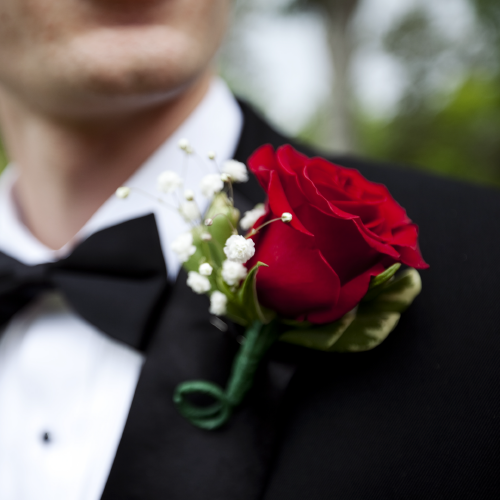 Bouquet, Corsage, or Boutonniere?
Let's clear some things up:
A bouquet is an arrangement of flowers that is often bound with ribbon to carry.
A corsage is a spray of flowers worn by women. They can be worn on your wrist, shoulder, or waist.
A boutonniere is a small bouquet worn in a buttonhole, usually by a male.
There are 3 factors to consider: Do you want to carry or wear your flowers? Will it dress up a gown or get lost in it? And if you're wearing a corsage, you'll select a custom ribbon to wear it with.
It's always helpful to stay in-the-loop with your date to make sure you are both comfortable and coordinated.
If You're Buying for Your Date
Often, males will purchase prom flowers for their date. If you can, get a color swatch from your date, or consider going together to pick out the flowers. It's a respectful gesture to show your date that you are interested in their selection, and you'll avoid any faux-pas that can put a damper on your hopes for a perfect prom.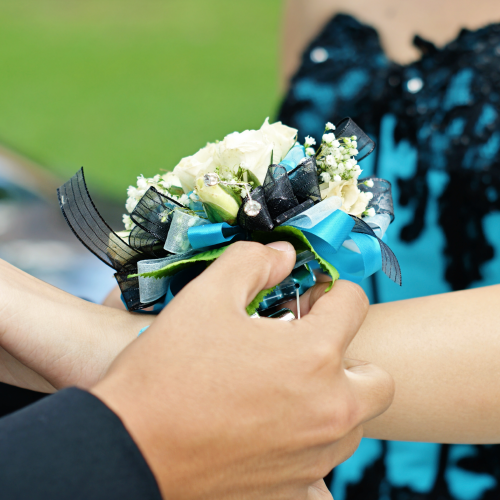 Make Them a Keepsake
If you take care of your flowers on prom night, you can preserve and cherish them for years to come. Carefully hang the arrangement upside-down in a dry environment to preserve your them. If you lay them flat or place them in a vase, you run the risk of the flowers decomposing or growing moldy.
After the flowers are completely dried, you can place them in a shadow box, frame, or anywhere you'd like to see them.
--
Abbott Florist has been providing prom flowers for over 50 years. We understand the hopes and intense emotions involved in planning for your cherished final moments of high school. Whether you're a mother, prom queen, or nervous date, we can help you choose the perfect flowers for prom night.
Please visit our store or give us a call at 856-728-3939 to learn how Abbott Florist can help you make a statement on prom night.